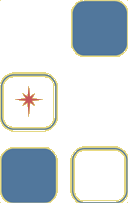 ...The Gaelic language and culture are alive and very well on this island, and on weekends they don't need much excuse for a party (Ceilidh). With lots of guests, they really did it right. From nine to midnight there was a three hour concert of Micmac Indianmusicians, an Acadien group called Les Habitants, a folk singer and a wonderful fiddler, and ended up with a Gaelic quartet that pulled out the jams are really got people rocking.
The last group, Slainte Mhath, were under 18, and the fiddler was 15. The bagpiper was really energetic, dancing while seated and playing the pipes, but the fiddlers and keyboards matched his enthusiasm. All of them were accomplished step dancers which is a strange contrast between intricate footwork and the torso and arms kept relatively still. For some reason the step dancing affected me as much as the music. Here were several casually dressed teenagers, dancing in much the same way as their 18th century ancestors danced. Evidently, in European competition the dancers from Cape Breton win quite often, indicating that they have preserved the arts and culture of the 18th century in a more pure form than the Scots who did not leave for the new world.
The webmaster for the music site talked about his efforts to put the young group online, but the connectivity for the island as a whole is not that broad, yet he still plans on putting up sound samples...
...The conference lasted about 40 hours, and some people barely slept. The night after the opening concert featured an encore by Slainte Mhath, the Gaelic group (pronounced "slawn cha va"), marking the sale of their new album, "Prophecy" that took place at a night club...